Every user has access to the My Profile page, which can be found in the main navigation of the Radon Management Cloud.  Updates made to the My Profile page will sync to the Mobile and Desktop applications for your user.  On the My Profile page, you can,
Update your contact information, license numbers, etc.
Update your Time Zone
Upload an image of your signature to be used on the official radon reports
Change your user password
Set your Units of Measurement preferences (Imperial vs. Metric)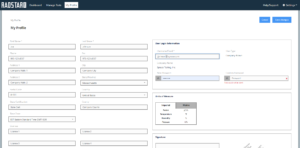 Units of Measurement
You can change your user's Units of Measure at any time.  Switching between Imperial or Metric on your My Profile page will switch all values in all views in the software and reports.  So, you can generate a report in pCi/L and then switch to Metric and generate the same report in equivalent Bq/m3.  The following table displays the Units of Measure for the environmental variables recorded for the RadStar Alpha Series continuous radon monitors.
| | | |
| --- | --- | --- |
|   | Imperial | Metric |
| Radon | pCi/L | Bq/m3 |
| Temperature | F | C |
| Humidity | % | % |
| Barometric Pressure | kPa | Mbar |